Subscriber Alerts: Text Message or Email Notifications
Receive text messages, emails, or both!
Subscribers receive route alerts regarding delays, schedule changes, general information, and upcoming agency events.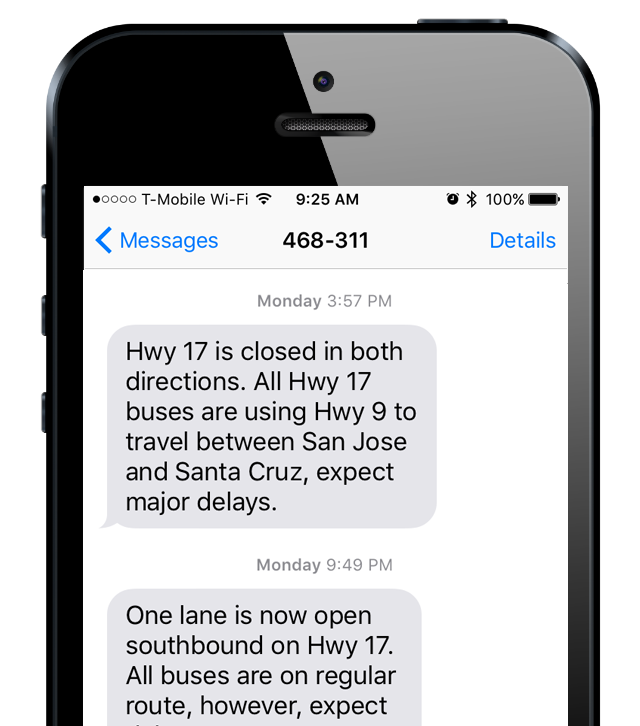 There are two ways to subscribe:
Subscribe by Web
Subscribe by Text Message
Use your text enabled mobile phone to directly subscribe to a single route at a time.
Text "scm rtxx" to 468-311 (where "xx" represents the route, valid route subscription codes listed below).

Text "scm help" to receive information about this service.
Text "scm stop" to unsubscribe and stop receiving additional messages.
Text "scm start" to re-subscribe after "scm stop" is sent.
Message and Data rates may apply. Up to 5 messages per week.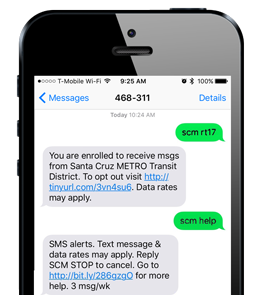 Commuter Service

"scm rt17" – Amtrak Highway 17 Express

Local Santa Cruz

"scm rt4" – Harvey West/Emeline

UCSC & Westside

"scm rt10" – UCSC via Main Gate - High St
"scm rt16" – UCSC via Main Gate - Laurel
"scm rt18" – UCSC via Main Gate - Mission
"scm rt19" – UCSC via Main Gate - Lower Bay
"scm rt20" – UCSC via Main Gate - Delaware / Western

Scotts Valley / SLV

"scm rt35" – Highway 9/Scotts Valley

North Coast

"scm rt40" – Highway 1 - Davenport
"scm rt41" – Empire Grade - Bonny Doon
"scm rt42" – Davenport/Bonny Doon

Mid-County


"scm rt55" – Cabrillo - Rio Del Mar

Live Oak

"scm rt66" – Live Oak via 17th
"scm rt68" – Broadway/Portola

Cabrillo / South County

"scm rt69" – Capitola Road/Cabrillo/Airport
"scm rt71" – Soquel/Freedom
"scm rt91x" – Cabrillo Express

Local Watsonville

"scm rt72" – Green Valley - Hospital/Corralitos
"scm rt74" – PVHS/Hospital
"scm rt75" – Green Valley - Wheelock
"scm rt79" – East Lake/Crestview