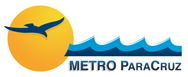 METRO ParaCruz is Santa Cruz METRO's ADA Complementary Paratransit service offering accessible door-to-door shared rides for people who are not able to use the bus due to a physical, cognitive, or psychiatric disability.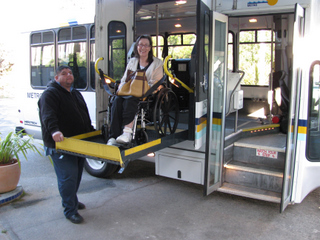 METRO ParaCruz provides people with disabilities a level of access to mass public transportation that is comparable to the rest of the community.
METRO operates a fleet of safe, clean, modern and accessible large buses, small buses, and minivans, connecting people to educational, business, medical, shopping, social, and other destinations. All METRO fixed route buses and ParaCruz vehicles are accessible to any customers needing the use of a ramp or lift to board a METRO vehicle.
Santa Cruz METRO ParaCruz is a shared-ride service, providing door-to-door public transportation for people who have a temporary or permanent physical, cognitive, or psychiatric disability that prevents them from making some or all of their trips on METRO's fixed route bus system.
Customers may arrange for an assistant to travel with them. Rides are scheduled in advance, and frequently include picking up and dropping off other customers along the way.
ParaCruz Customer Guide
How To Apply
Eligibility for this service is determined through an in-person interview.
For ParaCruz Customer Service Inquiries
Or call (831)425-8600
Responses to ParaCruz Customer Service Reports may take up to 30 days.
ParaCruz Reservations and Customer Service Hours
Rides must be reserved at least one day in advance of the ride.
Reservations may be arranged between the hours of 8:00am and 5:00pm
Call (831)425-8600 Dial 711 for CRS Hearing & Speech Impaired Services
ParaCruz Service Area
METRO ParaCruz provides service to any destination within Santa Cruz County that is within three-quarter (¾) miles of an operating bus route.
ParaCruz Service Days and Hours
The days and hours that paratransit service operates reflect the days and hours that METRO local fixed route bus service operates in same area (excluding Amtrak Highway 17 Express).
If fixed route bus service operates limited trips, paratransit service will be available only during the times when those fixed route bus trips are operating
Weekend and holiday paratransit service will only be provided when and where local fixed-route bus service is operating
METRO ParaCruz operates additional evening hours to correspond with certain fixed routes, and operates limited hours (6:00am to 10:30pm) adjacent to fixed routes #33 and #34 on weekdays only during the summer months, when these fixed routes do not operate.
Call for more information (831)425-4664 (Dial 711 for CRS Hearing & Speech Impaired Services)
ParaCruz Fares
Fixed Route Bus Equivalent Fares

If a fixed route passenger needs to board one bus to get to their destination, they would pay a single one-way fare ($2)
If a fixed route passenger needs to board two buses to get to their destination, they would pay two one-way fares ($4)

Paratransit Fares

A Reservationist will inform the paratransit passenger of the exact fare at the time of booking the ride, based on the following criteria:
If a paratransit passenger's ride is equivalent to a single fixed route bus fare, they would pay a paratransit base fare ($4)
If a paratransit passenger's ride is equivalent to two or more fixed route bus fares, they would pay a paratransit base fare plus an additional $2 ($6 maximum)

Premium Fares

For will-call returns, a paratransit passenger will pay twice the $4 base fare ($8)
For a re-dispatched vehicle, a paratransit passenger will pay four times the $4 base fare ($16)
Pre-paid ParaCruz coupons are available
Mobility Devices