Santa Cruz METRO provides safe, courteous, and efficient public transit within Santa Cruz County, and Highway 17 Express Commuter Service to downtown San Jose.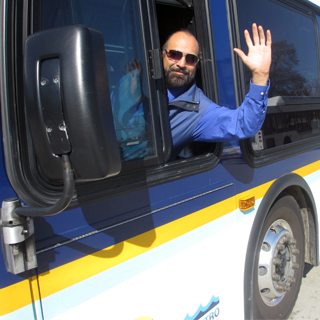 The Santa Cruz METRO was formed in 1968. Today we operate over 80 buses on over 30 fixed routes.
Our local service serves the cities of Santa Cruz, Capitola, Watsonville, and Scotts Valley, as well as the unincorporated areas of Aptos, Soquel, Live Oak, Bonny Doon, Davenport, and the San Lorenzo Valley in the Santa Cruz Mountains.
METRO operates Amtrak Highway 17 Express Commuter Service in cooperation with other transit agencies connecting you to locations in downtown San Jose, as well as Bay Area Transit Systems.
Choose any of the Rider's Guide topics listed to the left.