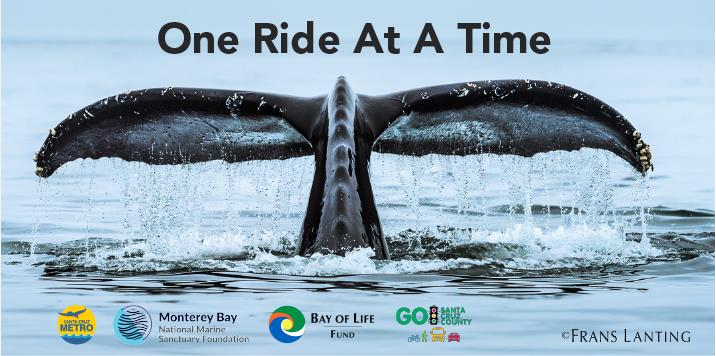 Protect Our Monterey Bay, One Ride at a Time
One Ride at a Time is a campaign that gives everyone in Santa Cruz County an opportunity to protect our extraordinary natural resources just by simply riding the bus.
Our home, the Monterey Bay region, is the hottest hot-spot for biodiversity in North America according to a study conducted by The Nature Conservancy. Its dynamic confluence of and and sea creates unique ecosystems and supports iconic wildlife from secretive mountain lions to majestic blue whales.
Since January 2023, every ride on a METRO bus donates to our partners in protecting the environment. All you have to do is hop on board and METRO will make a financial contribution to the Monterey Bay National Marine Sanctuary Foundation and the Bay of Life Fund as part of METRO's rider loyalty program.
Ride METRO today to protect our Monterey Bay, one ride at a time!
Join Our Conservation Club to Donate Even More
While METRO has committed to donate for every ride, you have the chance to contribute even more. Take your commitment to the next level by joining our Conservation Club.
Become a Conservation Club member and log your rides at GO Santa Cruz County, and you can donate an extra $10 per 25 bus rides to our environmental partners. Plus, you'll get exclusive access to events, speakers, promo items and more.
Log Your Rides on Desktop
Create an account at scmetro.org/gosantacruz the online ride-sharing portal administered by GO Santa Cruz County


Once you have an account, use the portal to log your bus trips. You'll earn 10 points for each trip with a maximum of two rides per day that count towards your point accruals.

When you reach 250 points, or 25 rides, use the portal to select one of our nonprofit partners to receive a $10 donation.

You can also see the greenhouse gas emissions reductions you've made by riding public transit and compete against other riders to see who can make the biggest impact.
Log Your Rides on Mobile
Download the Commute Tracker app from the App Store or the Google Play store.

Setup your account and select CRUZ511.org.

Follow the prompts to allow Commute Tracker to automatically log your trips by turning on location tracking.

When you reach 250 points, or 25 rides, you can select a nonprofit partner to receive a $10 donation.
For more help setting up Commute Tracker, visit: https://scmetro.org/ctsetup.

One Ride at a Time Buses
METRO will gradually release pairs of buses wrapped with iconic photos of the Monterey Bay taken by renowned photographers like Frans Lanting and Jodi Frediani. By the end of 2024, about 30 wrapped buses will be traveling throughout Santa Cruz County and featuring inspiring images of whales, sea otters mountain lions, redwoods and more.
The beautifully wrapped One Ride at a Time buses will remind us of the positive impact we make every time we choose transit over a personal vehicle.
One Ride at a Time and the Community
Throughout 2023 and 2024, METRO will support the campaign with advertising, social media, and community outreach evens featuring the wrapped buses and powerful images from local photographers.
Why Metro Is Leading this Campaign
METRO'S mission is to provide environmentally sustainable transportation to Santa Cruz County. Every ride on a METRO bus takes cars off the road and significantly reduces greenhouse gas emissions.
METRO is also converting its entire bus fleet to zero-emissions buses (ZEBs) METRO currently has 9 ZEBs deployed in the county and plans to purchase 57 hydrogen-powered, fuel cell electric buses (FCEBs).
This procurement will mark the largest acquisition of FCEBs in North American history. METRO expects to begin receiving the 57 new FCEBs in late 2024, which includes forty-eight (48) 40ft. Buses and nine (9) 60 ft articulated buses.
Currently, 10% of METRO's fleet is composed of zero-emissions buses (ZEB) this single purchase will jump that total to over 69%.
Taken as a whole, converting over 69% of METRO's CNG and diesel fleet to zero-emissions FCEBs will result in a total GHG emissions reduction of 1.2 million MTCO2e. Starting in 2022, METRO has pledged that all new bus purchases
will be ZEBs.
One Ride at a Time is an opportunity to not only educate the public about the benefits of public transit and the unique natural resources of the Monterey Bay but inspire people to take action.
Our Campaign Partners
One Ride at a Time is made possible by a partnership between METRO, Santa Cruz County Regional Transportation Commission (SCCRTC), the Monterey Bay National Marine Sanctuary Foundation, Bay of Life Fund, and
renowned photographer-writer team Frans Lanting and Chris Eckstrom.

To learn more about our One Ride at a Time partners and photographers visit our Partners Page